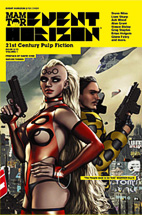 More like an incantation than a narrative, a kaleidoscope than a point of view, a sequence of images than portrait of anything, the succession of words and pictures on the following pages combine to create a mosaic that you must put together yourself. No post-modernism needed here, the world ahead is pre-deconstructed.
From the Book 1 preface by Douglas Rushkoff
Event Horizon is Mam Tor's award-winning flagship title. It's tagline "21st Pulp Fiction" describes it best. Think Epic when it first came out, or Heavy Metal in the late seventies and early eighties, but with a card stock cover. Somewhere between a book and a magazine. This is the general idea. Event Horizon takes "pulp" entertainment, from fantasy to sci-fi and everything in between into the 21st century. There are no fees for the work produced, but neither are there the usual editorial restrictions.
Everything within Event Horizon has been produced for love of the medium and is an insight into what creators get up to when left to their own devices; showcasing the incredible talents of both established creators and up-and-coming artists and writers in a unique series of books. Event Horizon brings together the talents of creators like Steve Niles (30 Days Of Night), Liam Sharp (The Possesed, Testament), Brian Holguin (Spawn), Ashley Wood (Popbot, Metal Gear Solid) alongside Kev Crossley, Ali Pow3rs, Dave Kendall, Emma Simcock-Tooth, Alan Grant, Greg Staples, Simon Bisley etc. Each issue features stand-alone stories in comic and written form side to side with serialized stories which will run accross several books.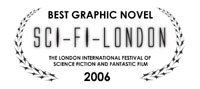 Fantasy tales and imagery too arresting to ignore... bizarre, funny, and visionary narratives in the horror, sci-fi, and zombie-Viking-Elvis genres. The art is every bit as left-field as the writing, with rich depictions of savage brutes... and hot goths in the spirit of Heavy Metal magazine.
Maxim US
Mam Tor: Event Horizon™ is a 12 issue series of graphic novel sized books, published twice a year, and retailing at $19.95 USD.
Related
Mam Tor: Event Horizon™ Book 2
Mam Tor: Event Horizon™ Book 1
Mam Tor: Event Horizon™ Samplers
Mam Tor: Event Horizon™ Reviews